There's nothing like brushing a juicy swish of
red paint on a clean white canvas.
I'm a painter and collage artist creating richly textured abstracts that are lively, bold and that investigate space and relationships.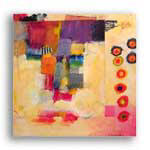 What engages me fully in my work is the discovery process, consequently, I'm always adding new things to the portfolio, experimenting with new ideas. This makes my engagement with my art dynamic, experimental and varied. Perhaps that's why many of my collectors acquire more than one of my paintings. I share exhibit walls with some of the Bay Area's best and nicest local artists as a member of two outstanding juried artist-owned cooperative galleries: Main Gallery in Redwood City and Gallery House in Palo Alto. My paintings show there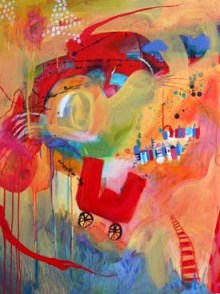 year-round and exhibits change monthly. I accept painting commissions for residential and commercial sites, created to your specific size and color specs.
I've participated in many gallery exhibitions and my work is in private collections in California and throughout the country.
Technology is exciting and provides new creative opportunities, but original art transforms both space and people. Art done by the human hand creates a connection between us and brings sophistication, taste, warmth and the energy of an artist's heart to cold walls in living and work spaces.